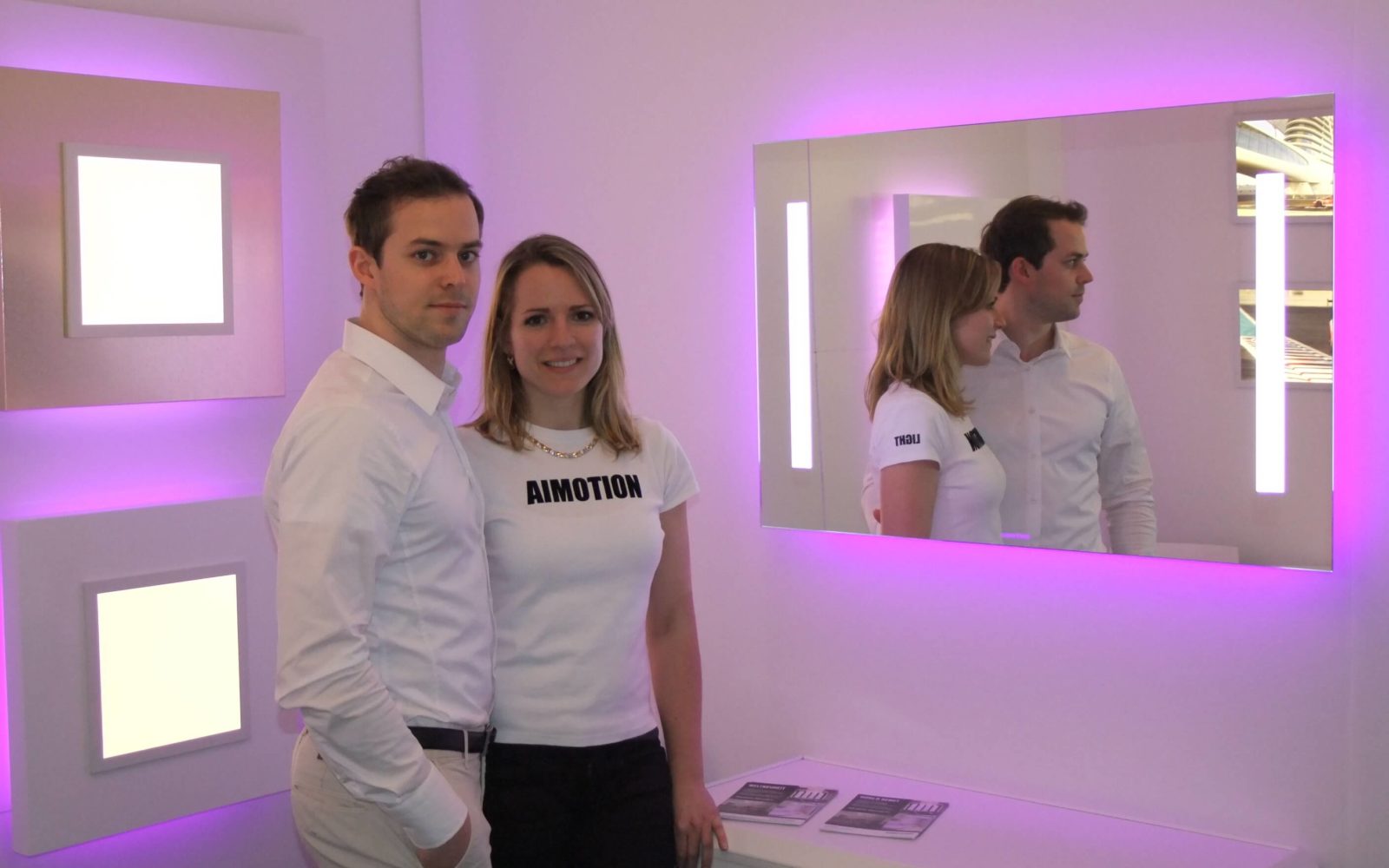 Startup Valley
The luminaires from AIMOTION combine design, comfort and modern technology
Introduce yourself and your start-up company AIMOTION to our readers!
AIMOTION, the luminaire with an invisible premium sound system, combines impressive sound with intelligently controllable light. The products combine design, comfort, modern technology and are tailored to the personal preferences of each individual customer.  The result is LED light quality for bright illumination and indirect lighting in up to 16 million colours as well as excellent music enjoyment in 360° – wireless, with multi-room function and all this subtly, without visible audio boxes, complicated wiring and wiring. The Light & Sound systems from AIMOTION stand for innovation, high-quality design and quality "Made in Germany".
AIMOTION is the name of our company and our product. It consists of our first names Aileen and Timo. Furthermore AIMOTION reminds of "emotion". This fits perfectly to our product, after all we want to create a unique feeling with a special experience of music and light.
How did the idea for AIMOTION come about and how did you come together as a founding team?
Unesthetic jukeboxes with bad sound and bad lighting made us develop AIMOTION. The product was realized as part of Timo's engineering studies, and the company was founded in 2015. We existed as a team even before the company was founded. In everyday business life, business is in the foreground, after work the common life as a couple is in the foreground.
From the idea to the start what were the biggest challenges until now and how did you finance yourself?
The idea is always just the beginning. Then the real work begins. One of the biggest challenges is certainly building a network of suppliers and developing a successful sales strategy. We also follow a bootstrapping approach and finance ourselves.
Who is the target group ?
AIMOTION offers a wide range of application possibilities and is predestined for use in the private and commercial sectors. The health and wellness sector offers great potential, as light and music are increasingly being used in therapies and healing methods.
Which products do you offer?
AIMOTION offers the product of the same name: an individualised luminaire with an invisible premium sound system. Customers can also select products from the components catalogue and integrate existing luminaires, their stereo system or record player into the AIMOTION network.
What is so special about the products?
We manufacture our products by hand in our manufactory and thus achieve a particularly high product quality. In this way we can also ideally adapt the objects to the individual wishes of our customers.
With regard to the product characteristics, we achieve an impressive 360-degree surround sound in combination with high-quality light. The system is very subtly integrated into the living space, without visible audio boxes, complicated wiring and wiring. Existing lights can also be easily integrated into the lighting network.
In addition, AIMOTION products are extremely easy to install, as nothing but a power connection is required. Another aspect is the extremely easy handling: Our installations can be controlled via app, remote control or wall switch. Thanks to the convenient automatic mode, AIMOTION switches music and light on automatically when people are present.
Where are we going? Where do you see yourself in five years?
We want to reach even more people with our product AIMOTION and convince them of its ingenious functions.
Finally: What 3 tips would you give to prospective founders?
Plan and test a sales strategy at an early stage, build up a good network and most important: draw new motivation from setbacks!
Further information can be found here
We would like to thank Aileen Herpell for the interview
Statements of the author and the interviewee do not necessarily reflect the opinion of the editorial staff and the publisher.
Startup Valley
Sabine Elsässer