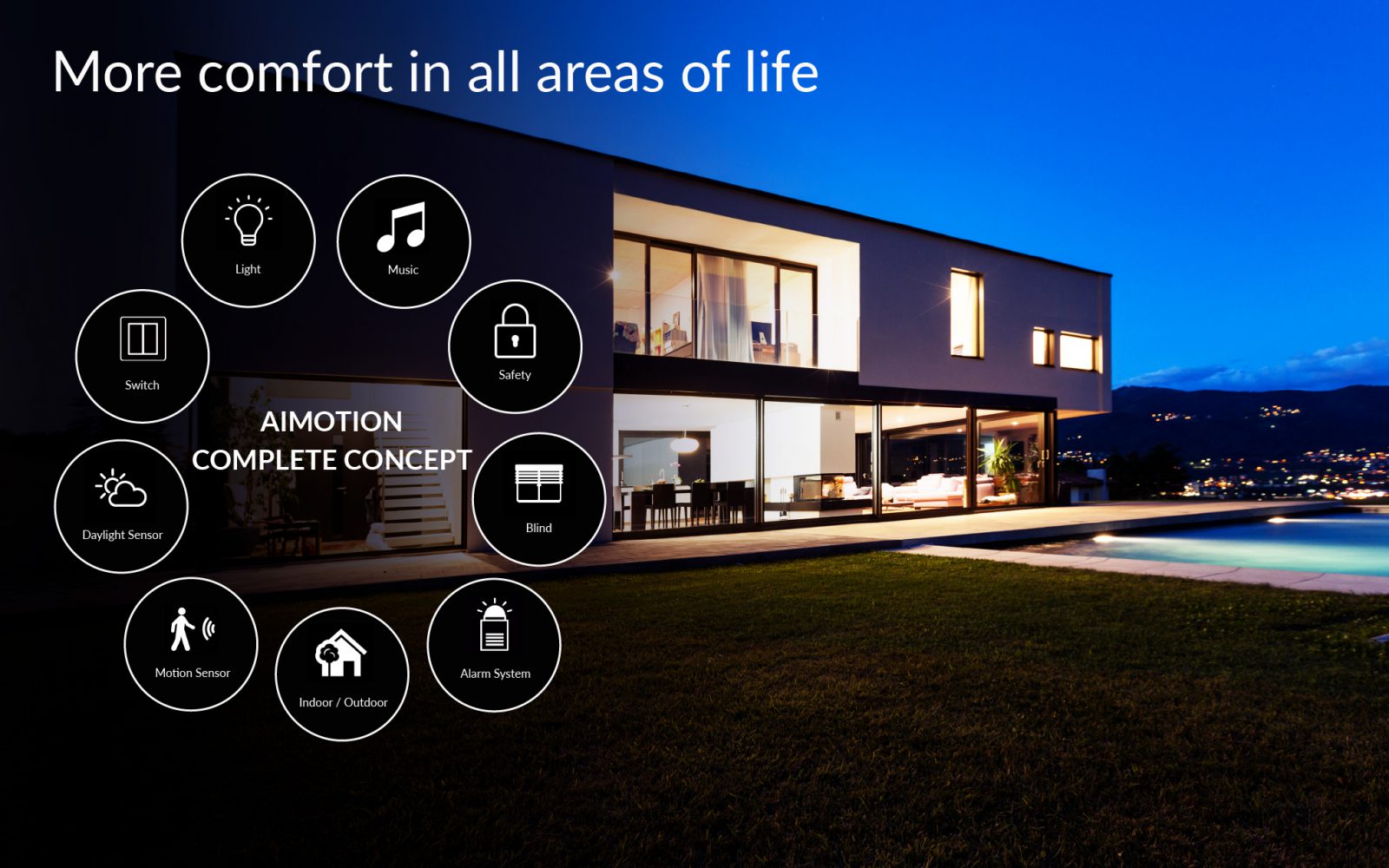 The intelligent system
Home has the potential to be so much more beautiful.
We are working to offer you products and solutions that create more space for life in your home.
The modern smart products are seamlessly integrated into the home – the features are easy to use and enjoy and make room for life at home.
An intuitive system with the possibility of integrating additional domestic technology indoors and outdoors.
Our smarthome philosophy
The products enable you to adapt it to any interior décor or  itself make the centrepiece of your room.
Their modularity, adjustability and repositionability make them adaptable to changing needs.
We believe that switching on the light should be as easy as switching on the music. A manifestation of this approach are the AIMOTION systems.
Home integration
CONTROL EVERY SOURCE
Simply connect your AIMOTION to a power outlet. Download the app and get started.
You have various options for remotely controlling your AIMOTION: through the app via WiFi or Bluetooth, the AIMOTION wireless switch or a wall switch and automated by motion detectors. This gives you the opportunity to do everything from switching on the light before you go home to checking the security systems from abroad.
WELCOME HOME
Integrate your alarm system. Trigger it from anywhere or set 'scenarios' such as absence to protect your home.
LIGHT ON
Switch on or off the light in a room, the outside lighting or even the whole house – all at once.
SET THE SCENE
Combine AIMOTION Systems with other products and enjoy multiroom music in best sound quality with pleasant lighting in every room.
DAY AND NIGHT
Automate functions and experience how you are greeted in the morning when entering the bathroom with your favourite music in bright activating lighting.  At night you will be accompanied by discreet dimmed lighting and quiet ambient music in the bathroom.
EXPAND
Control the blinds, pumps, heaters and countless other objects with your smartphone directly via the app or place the functions on your switches.
Freedom of choice
The products with multiroom function are connected to each other across rooms and
play the same music synchronously or different music in different rooms.
Made easy
Make your own settings. You have the freedom to adjust everything to your needs at any time without the need for a technician.
Safety and security
AIMOTION does not use an additional Smart-Home control centre that can be attacked from the outside. In the event of a WLAN failure, the most important functions are still switchable such as light, alarm system, pumps, heating, garage door, etc…
Ready for the future
The system is intelligent and will grow with the requirements of the future. Third-party devices can be connected to the system.